Oncolines contributes to a proposed new combination treatment strategy for pediatric acute lymphoblastic leukemia published in Nature Communication
T cell acute lymphoblastic leukemia (T-ALL) is an aggressive cancer arising from aberrant proliferation of T cell progenitors and accounts for 15% of pediatric ALL cases. Current standard treatment, consisting of high-dose multiagent chemotherapy, has led to an overall survival rate exceeding 80%. Nevertheless, one out of five children with T-ALL will relapse within four years after the start of therapy. New treatment options are urgently needed.
With the aim to identify potential novel drug targets for relapsed T-ALL, Valentina Cordó, Ph.D. student in the group of Dr. Jules Meijerink at the Princes Máxima Center of pediatric oncology in Utrecht, the Netherlands, carried out a phosphoproteomic analysis of eleven ALL cancer cell lines [1]. In collaboration with researchers at the University of Amsterdam, Cordó and colleagues generated a comprehensive dataset of 21,000 phosphosites on 4,896 phosphoproteins, including 217 kinases. Src-family kinases, cyclin dependent kinases and insulin receptor signaling were identified as potential targetable pathways. Combination matrix experiments in T-ALL patient-derived xenografts ex vivo revealed novel potential combination treatments, such as the combination of the SRC family inhibitor dasatinib and the insulin receptor inhibitor BMS-754807 (see Figure).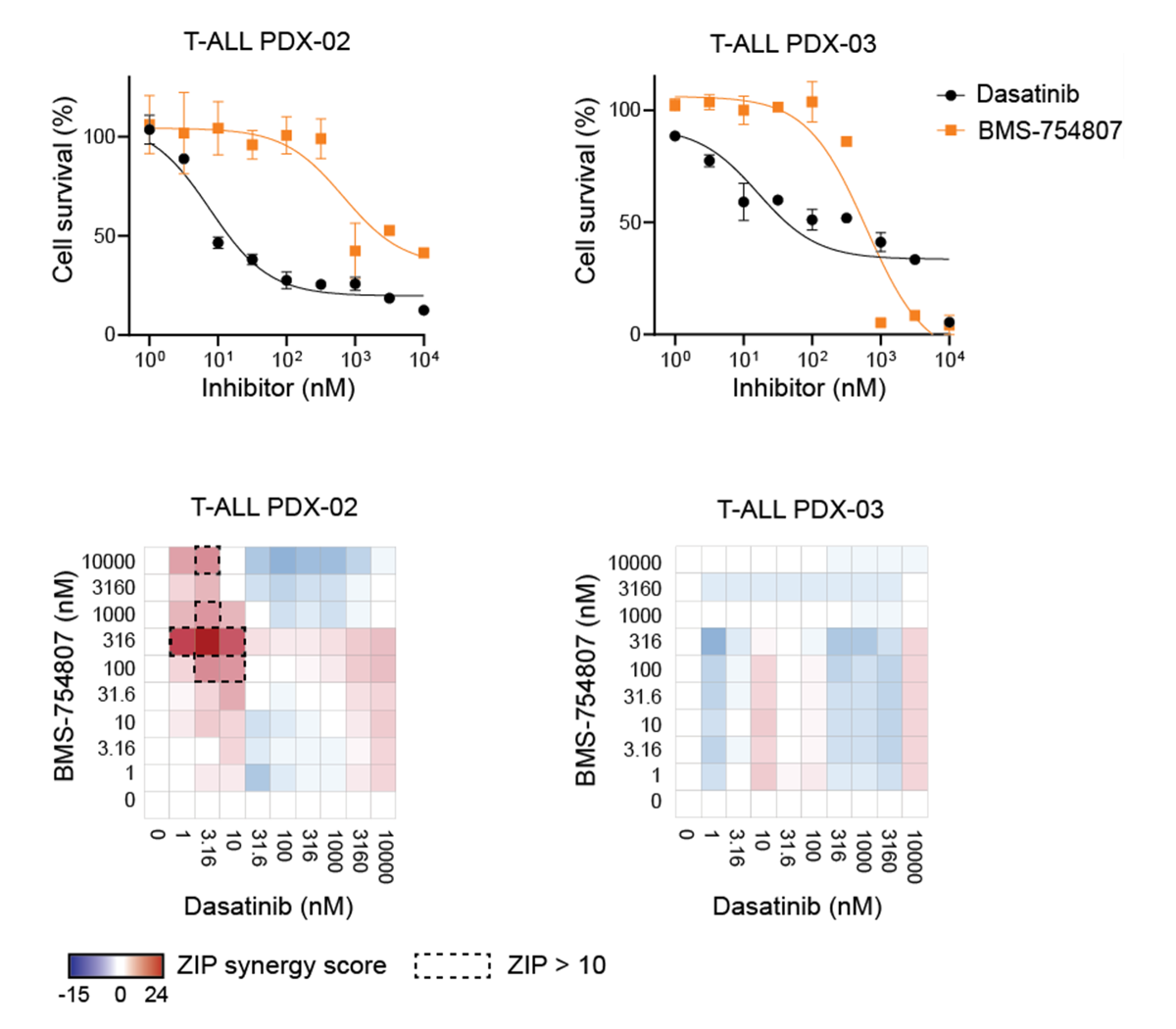 Figure: Dose-response curves of Src-family kinase inhibitor dasatinib and insulin receptor inhibitor BMS-754807 and combination matrix in two T-ALL patient-derived xenografts (PDX) ex vivo.
References[1] Cordó et al. (2022) Phosphoproteomic profiling of T cell acute lymphoblastic leukemia reveals targetable kinases and combination strategies. Nature Communications 13:1048.
[2] van der Zwet et al. (2021) MAPK-ERK is a central pathway in T-cell acute lymphoblastic leukemia that drives steroid resistance. Leukemia 35, 3394-405.
[3] Li et al. (2016) IL-7 receptor mutations and steroid resistance in pediatric T cell acute lymphoblastic leukemia: A genome sequencing study. PLoS Medicine 13(12):e1002200.
[4] Canté-Barrett et al. (2016) MEK and PI3K-AKT inhibitors synergistically block activated IL7 receptor signaling in T-cell acute lymphoblastic leukemia. Leukemia 30, 1832-43.
About Oncolines
Oncolines B.V. is a precision medicine services company in oncology and cancer immunotherapy. We help to bring improved and novel therapies to the right patient population faster. We offer a set of complimentary services to enable our clients to characterize their compounds, and to determine activities, selectivities and mechanism of action. We present results in a unique and interactive reporting format that facilitates easier and faster interpretation of results.