Molecular Targets and Cancer Therapeutics conference
Oncolines will present two posters at the Molecular Targets and Cancer Therapeutics conference in Boston next week. Oncolines will also exhibit in the Exhibition Area (Booth #410).
On Thursday afternoon, Jeffrey Kooijman will present Oncolines® cancer cell panel profiling data and bioinformatics analyses of twenty three small molecule inhibitors targeting various components of the RAS-RAF-MEK-ERK (MAPK) pathway.1 Several bioinformatics analyses were performed correlating cell line sensitivity with gene mutation, gene expression and phospho-protein signatures.
On Friday afternoon, Janneke Melis will present Oncolines® profiling data of sixteen compounds inhibiting different enzymes involved in the DNA damage response pathway, such as PARP, Polθ, and ATR.2 Bioinformatics was used to select drugs for combination studies in 2D cell culture and 3D spheroid cell viability assays.
The Molecular Targets conference is jointly organized by the American Association of Cancer Research (AACR), the National Cancer Institute (NCI) and the European Organization for Research and Treatment of Cancer (EORTC) in will be held in the Hynes Convention Center in Boston from 11 to 15 October 2023.
Abstract and Poster numbers
1Abstract 35600, Poster A100; 2Abstract 35382, Poster B061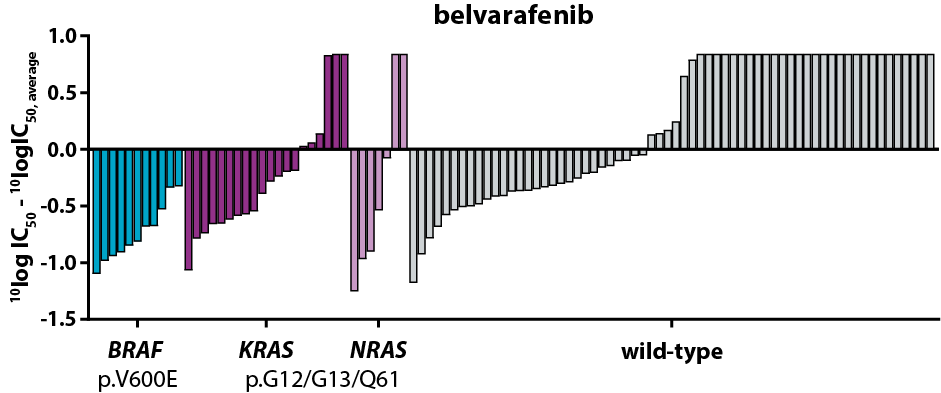 Figure. Waterfall plot showing the ranking of drug response based on IC50 values of 102 cancer cell lines profiled with the pan-RAF inhibitor belvarafinib.
Oncolines B.V. is a precision medicine services company in oncology and cancer immunotherapy. Oncolines is part of the Symeres group of companies, a group of high-quality CROs and CDMOs based in Europe and the United States.