Oss, September, 19th , 2017 – NTRC, a biopharmaceutical company focused on the discovery and development of innovative precision medicines for the treatment of cancer, today announced that the United States Patent and Trademarks Office (USPTO) has granted patent protection for a key patent for its TTK kinase inhibitor programme.
The spindle assembly checkpoint TTK, also known as Mps1, is a key regulator of chromosome segregation and a promising new drug target for the treatment of cancer. Scientists at NTRC, based in Oss, The Netherlands, designed and optimized the novel TTK inhibitors, which exhibit high biochemical and cellular potency. The TTK inhibitors are based on a (5,6-dihydro)pyrimido[4,5-e]indolizine scaffold. This is a completely novel class of synthetic chemical molecules, which are described for the first time in the NTRC patent (WO 2015/155042 A1). The NTRC TTK inhibitors demonstrate very potent anti-proliferative activity in cell-based assays, in the same range as classic cytotoxic agents, but show preference for tumour cells with activated Wnt signalling. In several in vivo cancer models, lead compounds from the series have shown strong reduction of tumour growth or even tumour regression, without toxicity.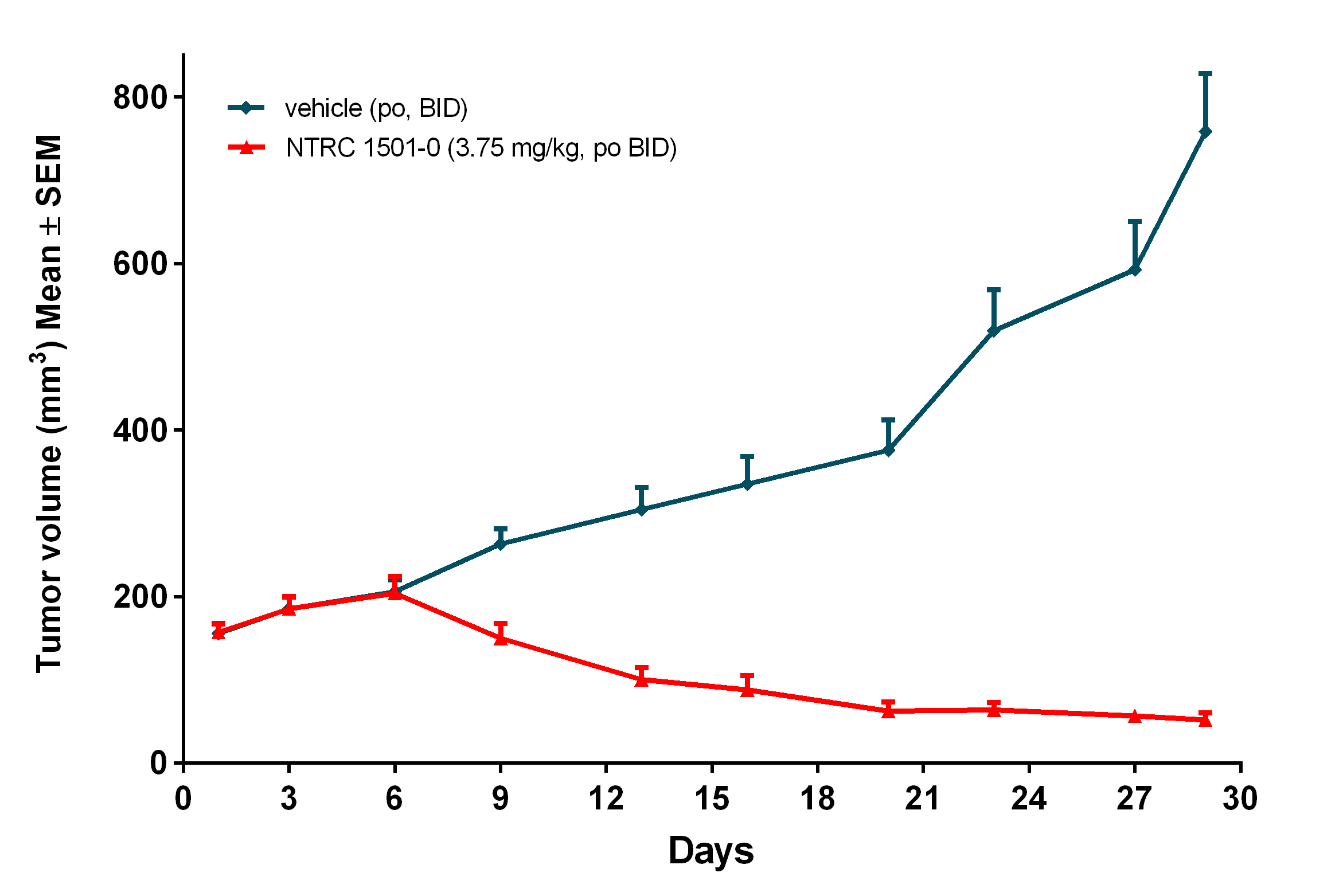 Efficacy study NTRC 1501-0, a lead compound from the NTRC TTK inhibitor series, in a xenograft model of the human A427 lung cancer cell line. A427 is mutant for the CTNNB1 gene, coding the Wnt pathway regulator β-catenin. As disclosed by NTRC scientists in another patent application (WO 2016/166255 A1) and in a recent article in Molecular Cancer Therapeutics, tumour cells with activating mutations in the CTNNB1 oncogene show increased sensitivity for TTK inhibitors. In the A427 xenograft model, treatment with NTRC 1501-0 at a dose of 3.75 mg/kg bi-daily, results in tumour regression.
Publications on NTRC's TTK inhibitor series:
Uitdehaag, J.C.M., de Man, J., Nicole Willemsen-Seegers, N., Prinsen, M.B.W., Libouban, M.A.A., Sterrenburg, J.G., de Wit, J.J.P. de Vetter, J.R.F., de Roos, J.A.D.M., Buijsman, R.C., and Zaman, G.J.R. (2017) Target residence time-guided optimization on TTK kinase results in inhibitors with potent anti-proliferative activity. Mol. Biol., 429, 2211-2230.
Zaman, G.J.R., de Roos, J.A.D.M., Libouban, M.A.A., Prinsen, M.B.W., de Man, J., Buijsman, R.C., and Uitdehaag, J.C.M. (2017) TTK inhibitors as a targeted therapy for CTNNB1 (β-catenin) mutant cancers. Cancer Ther., advanced publication online.
Maia, A.R., de Man, J., Boon, U., Janssen, A., Song, J.Y., Omerzu, M., Sterrenburg, J.G., Prinsen, M.B., Willemsen-Seegers, N., de Roos, J.A., van Doornmalen, A.M., Uitdehaag, J.C., Kops G.J., Jonkers, J., Buijsman, R.C., Zaman, GJ.R., and Medema, R.H. (2015) Inhibition of the spindle assembly checkpoint kinase TTK enhances the efficacy of docetaxel in a triple-negative breast cancer model. Oncol. 26, 2180-92.
NTRC patents on TTK:
WO 2015/155042 A1. (5,6-dihydro)pyrimido[4,5-E]indolizines
WO 2016/166255 A1. Prognostic biomarkers for TTK inhibitor chemotherapy
About NTRC
NTRC is a precision medicine company dedicated to the development of new anti-cancer drugs. NTRC facilitates the development of novel therapies by providing cancer cell line profiling services (Oncolines™, OncolinesProfiler™, and SynergyFinder™) and target residence time measurements for protein kinases (ResidenceTimer™) on a fee-for-service basis. NFK GreenScreen™, an assay read-out for the cancer immunotherapy drug targets IDO1 and TDO, is supplied to clients globally. NTRC has internal drug discovery programs on TTK, IDO1 and TDO. For more information please visit www.ntrc.nl or contact info@ntrc.nl